15th June 2017
If you have lost most or all of your teeth, dental implants offer a viable replacement option that both looks good and functions properly. Unlike conventional bridges and dentures, dental implants actually become part of the mouth and prevent the deterioration of the jawbone. Dental implants are permanently attached to the tooth roots, and therefore, look, feel and function just like regular teeth.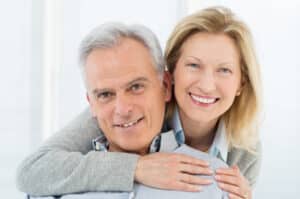 At Smile Design Dental in Buckinghamshire, dental implants are our treatment of choice for patients who have suffered tooth loss. To be a good candidate, you must be in general good health and have enough jawbone to support the dental implants. Our experienced dentists will examine your teeth, assess your eligibility and will be happy to answer any questions you may have. A dental implant procedure is fairly straightforward and is usually completed in two stages.
What are dental implants?
Dental implants are small titanium screws that are surgically placed into the jawbone. Essentially, they fuse with the jawbone and act as replacement roots for crowns, dentures or bridges.
What to expect
Treatment with dental implants in Buckinghamshire is usually completed in two stages over a period of six months. After your initial consultation, your dentist will explain in detail all of the implant options available for replacing your missing teeth. Implant surgery is very straight forward and doesn't involve significant pain or discomfort.
Our dentist will place the dental implants into your jawbone and you will have to take good care of your teeth and gums during the healing period in order to avoid gum disease or tooth decay. Once your dental implants have fused with the jawbone, you will return to the dental practice in order to have your replacement teeth placed on top of the dental implants.
At the end of the treatment, your biting and chewing power will be completely restored and the bone in your jaw will remain strong and resilient. You will have a great, newly restored smile that you can proudly show off to the world.
To learn more about dental implants in Buckinghamshire get in touch with our friendly team and book your appointment today.
Back to Blog