16th March 2017
If you are missing one or more teeth, you may want to consider dental implants. There are many benefits of dental implants in Buckinghamshire at Smile Design Dental. They are the most long-lasting and effective solution to replace your missing teeth.
To find out if the procedure is right for you, simply book a consultation with one of our dental implant dentists.Ideal dental implant candidates have healthy teeth and gums, have a sufficiently healthy jawbone to support the dental implant and are committed to good oral hygiene.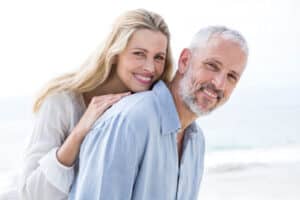 As well as this this you must not have uncontrolled diabetes or autoimmune disorders, which may impact your ability to heal sufficiently. It is also helpful people choosing dental implants in Buckinghamshire are non-smokers, or are willing to stop smoking during the dental implant process.
Why a healthy jawbone is important for successful dental implants
One of the most important criteria for dental implants in Buckinghamshire, is having sufficient bone structure in your jaw to accommodate the dental implants. If you don't, the implant may not be able to withstand the forces exerted on it by chewing and as a result, your implant could fail.
At our practice, you may be able to undergo a bone graft to build your jawbone back up. At your initial consultation, one of our dentists will tell you if a bone graft is necessary before you start your implant treatment.
Dental implants: the impact of gum disease
Gum disease is a common issue that affects your ability to have dental implants fitted. In many instances, gum disease is the main reason for tooth loss. If you have gum disease, we will need to treat this prior to your dental implant procedure,in order to get the condition under control. Once we have successfully handled the gum disease, we will be able to move forward with your dental implant procedure.
Please contact Smile Design Dental today to book your free dental implant consultation. We can even offer 0% finance to help you spread the cost of your dental implants in Buckinghamshire. We look forward making your smile happier and healthier.
Back to Blog