17th November 2009
Veneers and Lumineers are both made of porcelain
Veneers and Lumineers are thin laminates that are fixed over a tooth
The preparation for both of them is within enamel
Both types of restorations are non reversible
Veneers and Lumineers are both made at a laboratory
Lumineers are marketed to dentists and the public as veneers that don't need any removal of the enamel
Veneers can also be placed without removal of enamel
Removal of enamel allows more varied uses of veneers
The final result of treatment is more refined with veneers
In short, Lumineers are a brand of veneers that have been marketed heavily to the public. Cosmetic dentistry is a skill that needs to be acquired by the dentist through study and experience. Treatments need to be tailored to the individual and sometimes a combination of restorations is necessary to create a beautiful smile. For a good result with Lumineers teeth should ideally be straight or only slightly imbricated and there should be no bite problems. Lumineers are extremely thin so colour changes are limited.
Success of any case depends on the skill of the dentist to recognise the needs of the patient and execute the case in the correct way using skilled technicians to fabricate the restorations. If teeth can be improved with as little preparation to the tooth as possible, this is always preferable. Veneers and Lumineers when used in the correct situations will produce great results.
VENEERS BEFORE AND AFTER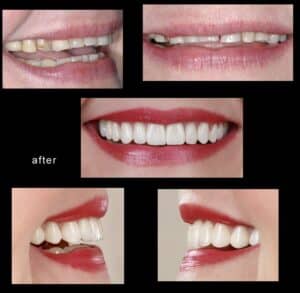 LUMINEERS BEFORE AND AFTER
Please view Dr Suri's photo gallery on the main site to see more before and after pictures.
https://www.smiledesigndental.co.uk/before-after.html
Back to Blog