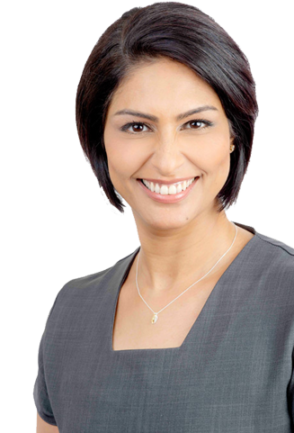 Implant, Restorative and Cosmetic Dentist
Dr Komal Suri
BChD
GDC Number: 76035
Dr Komal Suri is our implant, restorative and cosmetic dentist at Smile Design Dental Practice.
Having graduated from Leeds University in 1999, she has since gone onto study at the Royal College of Surgeons in implants and advanced surgery. Dr Suri is also the first and only UK female graduate of the highly prestigious and world-renowned Kois Center in Seattle, Washington. This US-based centre is an internationally recognised institute specialising in restorative dentistry.
Dr Suri has been working with Smile Design Dental Practice for 15 years, bringing with her many years of experience, and prodigious skill. She is particularly interested in advanced restorative dentistry with an emphasis on aesthetic and cosmetic dentistry, implants and advanced surgery, veneers, crowns, and bridgework. Dr Suri can also apply her knowledge to occlusions, endodontics, and full mouth rehabilitations. Like Dr Tailor, Dr Suri is particularly interested in and skilled at facial aesthetic treatments, and is highly regarded for her ability to perform thread lifts. She can also offer vampire facials to our patients and is passionate about helping to enhance and reveal a patient's natural beauty.
Her commitment to restorative and cosmetic dentistry extends beyond the practice, and she has authored a number of articles, as well as a book on the subject.
Back to our team