11th January 2018
Losing one or two teeth can have a big impact on your life, especially if you are young and lost them in an accident or through infection. It might feel pretty depressing to be faced with several decades of the hassle, discomfort and embarrassment that can be associated with some solutions to missing teeth.
If you wish you could put your missing teeth right back in, and not have to deal with removable prosthetic solutions, then dental implants in Buckinghamshire could be the answer for you.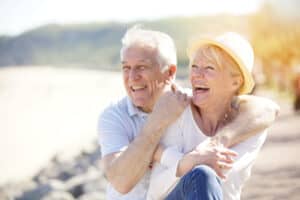 At Smile Design Dental, in Wendover, we help people reclaim control of their mouths, their speech, and their eating choices by inserting dental implants to replace lost teeth.
If you would like to know more about what we can do for you, the best thing is to give us a call and book an appointment.
In the meantime, here's some more information about dental implants to help you begin your decision-making process:
In Buckinghamshire, dental implants are tiny titanium posts that are screwed into the jawbone where the root of the missing tooth used to be. This is a minor surgical procedure, and afterwards, it takes some weeks for the gums and bone to heal. As they do so, the new bone tissue growth actually meshes with the new dental implant, holding it securely in place, just as it would a natural tooth root.
Once the dental implants have healed, which takes a couple of months at least, artificial teeth, custom-made to match the shape, size and colour of your own natural teeth, are screwed onto the posts.
Once in place, dental implants in Buckinghamshire can be treated just like the natural teeth they have replaced. This means that you can drink, eat, brush and floss as normal. And, the good news is that, as long as take care of them, dental implants very rarely fail, which means they can last for years. You may even completely forget that these teeth are not your own.
Dental implants in Buckinghamshire can be used to replace one, several or all of your natural teeth, and no one but you will be any the wiser.
Back to Blog